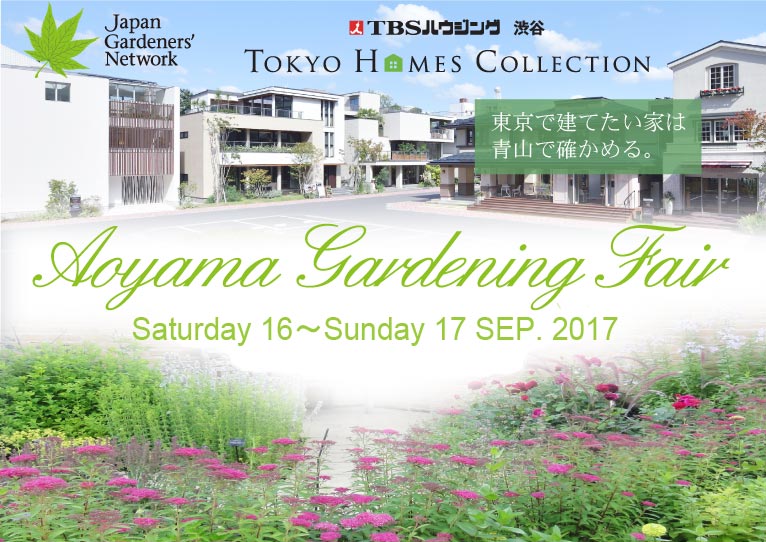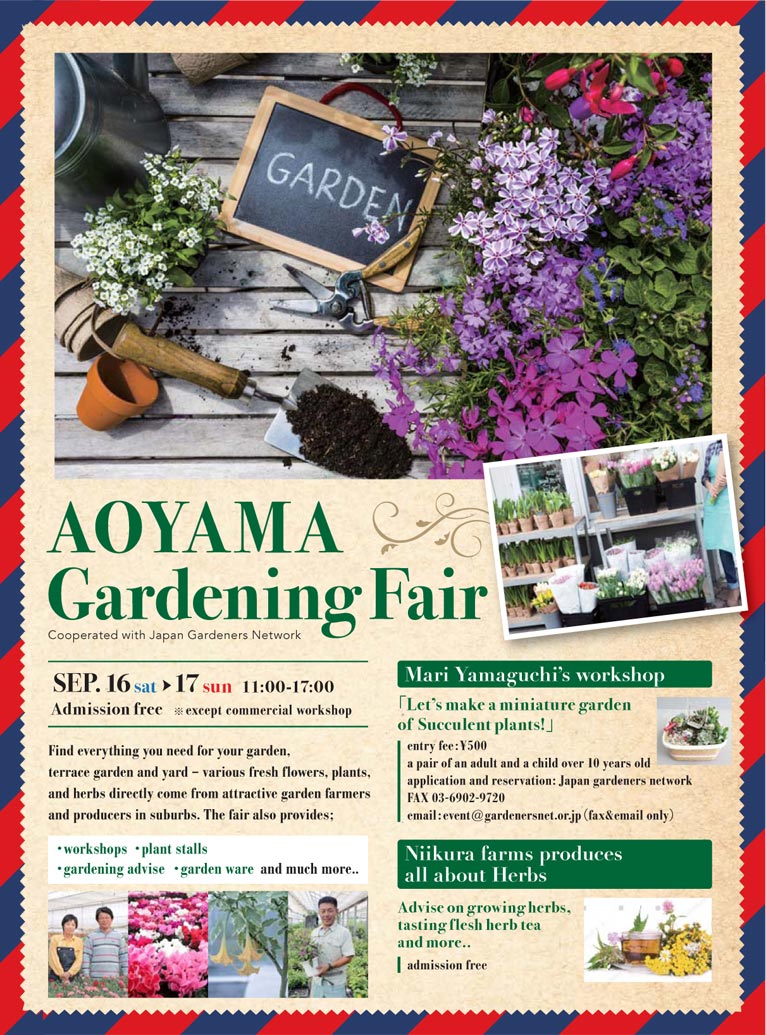 Japan Gardeners' Network Association(JGN) offers horticultural events through the year.
Now we introduce exciting event, AOYAMA Gardening Fair on 16th & 17th September.
You'll find 7 stalls of plants nurseries and gardening goods here, along with the best of autumn plants and bulbs.
On 16th Sat, take a break in Center house where you can enjoy fresh herb tea.
See below for more information:



16th & 17th September 2017 11:00~17:00




16th September 2017 11:00~17:00

16th September 2017 11:00~17:00

16th September 2017 11:00~17:00

16th & 17th September 11:00~17:00

16th & 17th September 11:00~17:00

16th & 17th September 11:00~17:00

16th & 17th September 11:00~17:00

16th September 11:00~17:00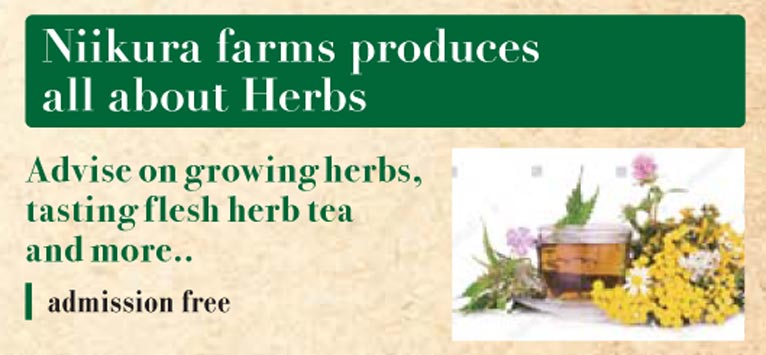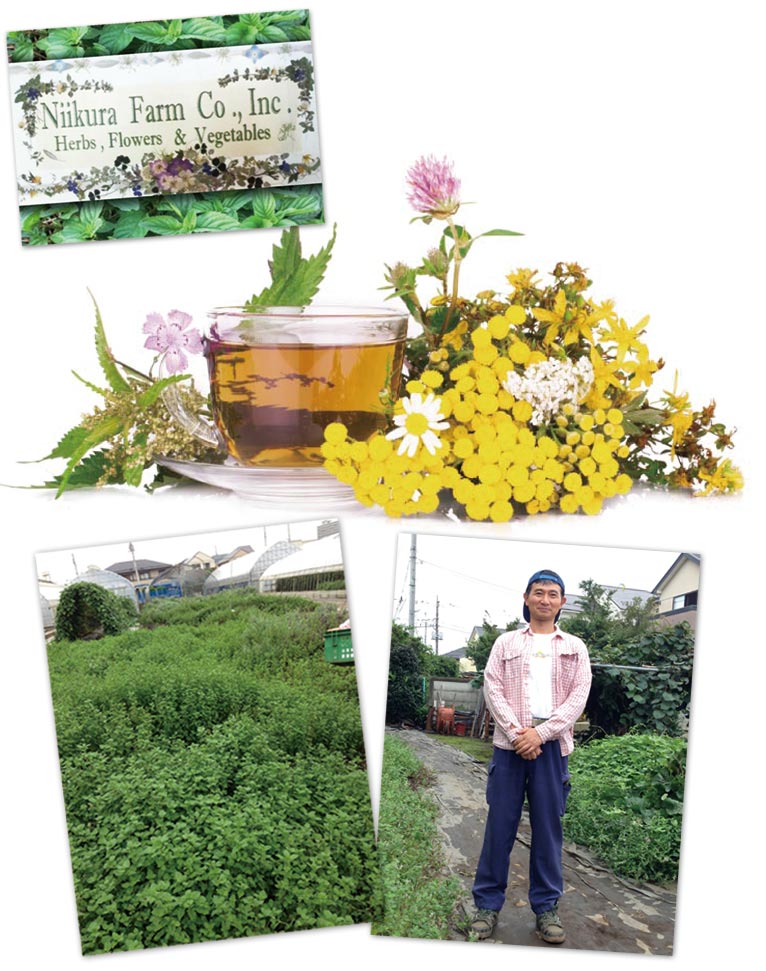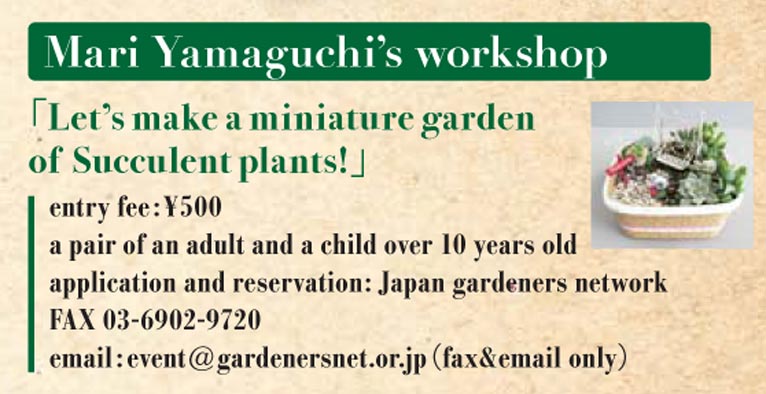 17th September
① 11:30~12:00
② 14:00~14:30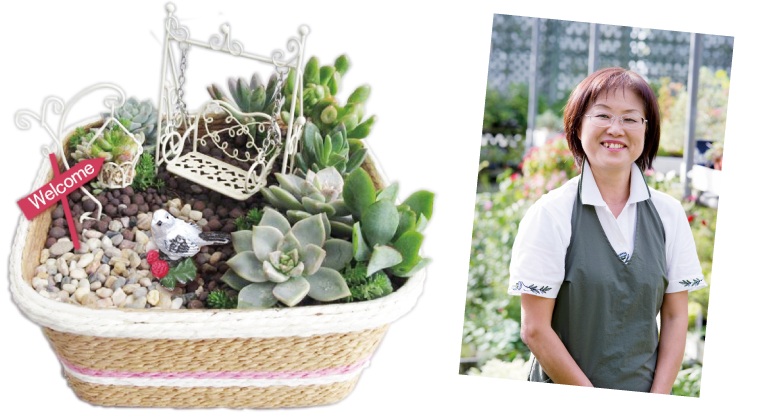 Mari Yamaguchi's workshop
「Let's make a miniature garden of Succulent plants!」
Date&Time
17th September 2017
① 11:30~12:00
② 14:00~14:30
Venue
「Tokyo Homes Collection」*Find the map below
Entry fee
¥500
Maximum
① 11:30~12:00 10 places
② 14:00~14:30 10 places
How to book
Write your name, lecuturetime, daytime telephone number and the name of this event 「Let's make a miniature garden of Succulent plants」
By Email:event@gardenersnet.or.jp
By Fax:03-6902-9720Japan Gardeners' Network Association(JGN)
Hanawa-Bldg.#505 1-17-11 Otowa, Bunkyo-ku, Tokyo 112-0013,Japan
FAX:03-6902-9720
AOYAMA Gardening Fair
Tokyo Homes Collection
HP
http://shibuya.tbs-housing.com/?p=4201/
Date&Time
16th & 17th September 2017 11:00~17:00
@Tokyo Homes Collection in Shibuya
Jingumae Shibuya,5-53

TEL
03-3409-6966
(10:00~18:00)
Download