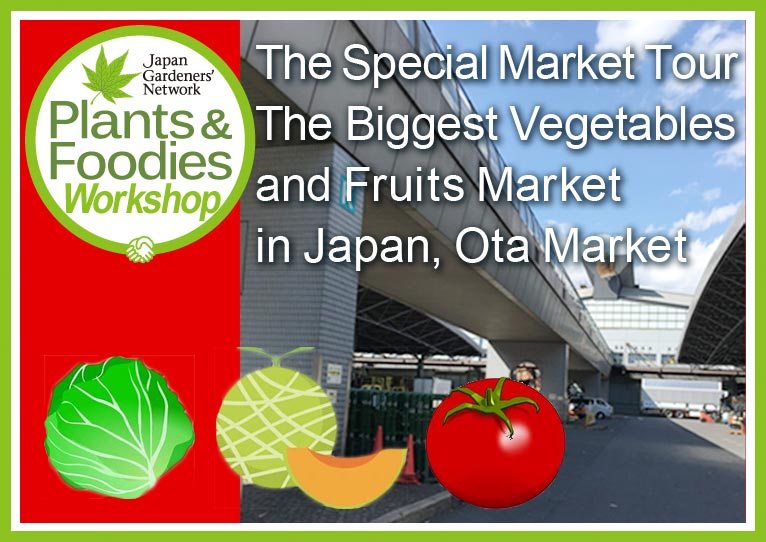 Japan Gardeners' Network Association(JGN) offers lectures and day tours for Plants lovers and Foodies.
Booking is now open!
Welcome to our delicious Market tour.
Ota Market is the wholesale market for the professionals.
Join this tour to visit vegetables and fruits auction under the big wholesale company member of Tokyo Seika Co., Ltd.
To find out more about this, the details below;
The Special Market Tour
The Biggest Vegetables and Fruits Market in Japan, Ota Market
Tutor
The company member of Tokyo Seika Co., Ltd.
Date
Saturday 2 June 2018
Tour time
7:00am to 9:00am
Rendezvous point
Omori Station ( Japan Railway -Keihin-Tohoku Line)
Central gate at 6:30am
Fee
JGN Members ¥2000
Non-JGN Members ¥2500
*Your participation fee will be collected at the venue on the day
*Include fresh vegetables as a souvenir
*No meals
Skill level
General
Language
Almost Japanese
Maximum
15 places
Venue
Metropolitan Central Wholesale Market, Ota
Address
3-2-1, Tokai, Ota,Tokyo
Map & Pamphlet
►Ota Market Map & Pamphlet

How to book
Write your name, daytime telephone number and the name of
this event「The Biggest Vegetables and Fruits Market in Japan, Ota Market」
By Email:event@gardenersnet.or.jp
By Fax:03-6902-9720
Book by
31 May 2018